Dance Dance Danseur mangaen laves til anime
Forlagsselskabet Shogakukan meddelte fredag, at Asakura Georges Dance Dance Danseur manga laves til en TV anime serie.
Beskrivelse
Junpei slumrer med glæde væk under sin søsters ballet-fremvisning, da en mandlig balletdanser træder op på scenen. Bevæget af den styrke og de færdigheder, som danseren viser, opdager drengen sin kærlighed til denne kunst.
Men efter at en bestemt tragedie sker, lover han at efterlade sin fortid og blive til indbegrebet af mandighed! Hvad vil han gøre, da hans kærlighed til ballet genopstår?!
Kilde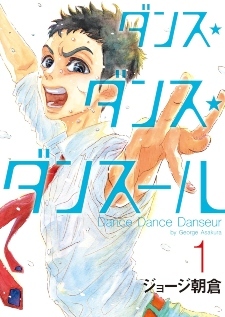 Manga 'Dance Dance Danseur' Receives TV Anime Adaptation
Publishing company Shogakukan announced on Friday that Asakura George's Dance Dance Danseur manga will receive a television anime adaptation. Synopsis Junpei is happily snoozing away during his sister's ballet recital when a male ballet dancer steps onto the stage. Moved by the strength and skills t…
Edens Zero anime start på Netflix i Vesten
Samtidg med den japanske TV-premiere i forgårs på TV anime adaptionen af ​​Hiro Mashimas aktuelle manga Edens Zero afslørede seriens officielle Twitter-konto, hvornår serien vises i resten af ​​verden på Netflix.
Således skal fans uden for Japan være tålmodige indtil efteråret 2021, hvor den så vises på Netflix. En mere præcis dato er endnu ikke annonceret.
Kilde
Edens Zero: Netflix-Startzeitraum des Anime bekannt
Edens Zero: Netflix-Startzeitraum des Anime bekannt – Erfahrt bei uns auf AnimeNachrichten.de, wann ihr die Serie sehen könnt!
Farewell, My Dear Cramer anime film trailer og info
Eiga Sayonara Watashi no Cramer First Touch, anime-filmen fra Naoshi Arakawas Farewell, My Dear Cramer (Sayonara Watashi no Cramer) manga – der også har en aktuel anime serie, udgav mandag en trailer og en ny plakat.
Begge fortæller at filmen får premiere den 11. juni. Arakawa tegnede personligt illustrationen på plakaten. Traileren indeholder Aika Kobayashis insert-sang "Can you sing along?"
Trailer
Plakat
Kilde
'Farewell, My Dear Cramer' Film's Trailer, Poster Reveal New June 11 Date
Trailer features film's "Can you sing along?" song by Aika Kobayashi
Getter Robo Arc anime trailer og info
Den officielle hjemmeside for TV anime adaptionen af Getter Robo Arc, den sidste manga i den ikoniske Getter Robo superrobot manga serie af Ken Ishikawa, afslørede fredag, at anime serien får premiere til juli. Webstedet afslørede også hovedrollen, flere medarbejdere, en reklame video og en illustration.
Nedenstående video indeholder JAM Projects sang "Storm 2021."
Trailer
Illustration
Kilde
Getter Robo Arc Anime's 2nd Video Announces Cast, More Staff, July Debut
Yūma Uchida, Arihiro Mukaino star; Jam Project perform opening theme